Breakout Creek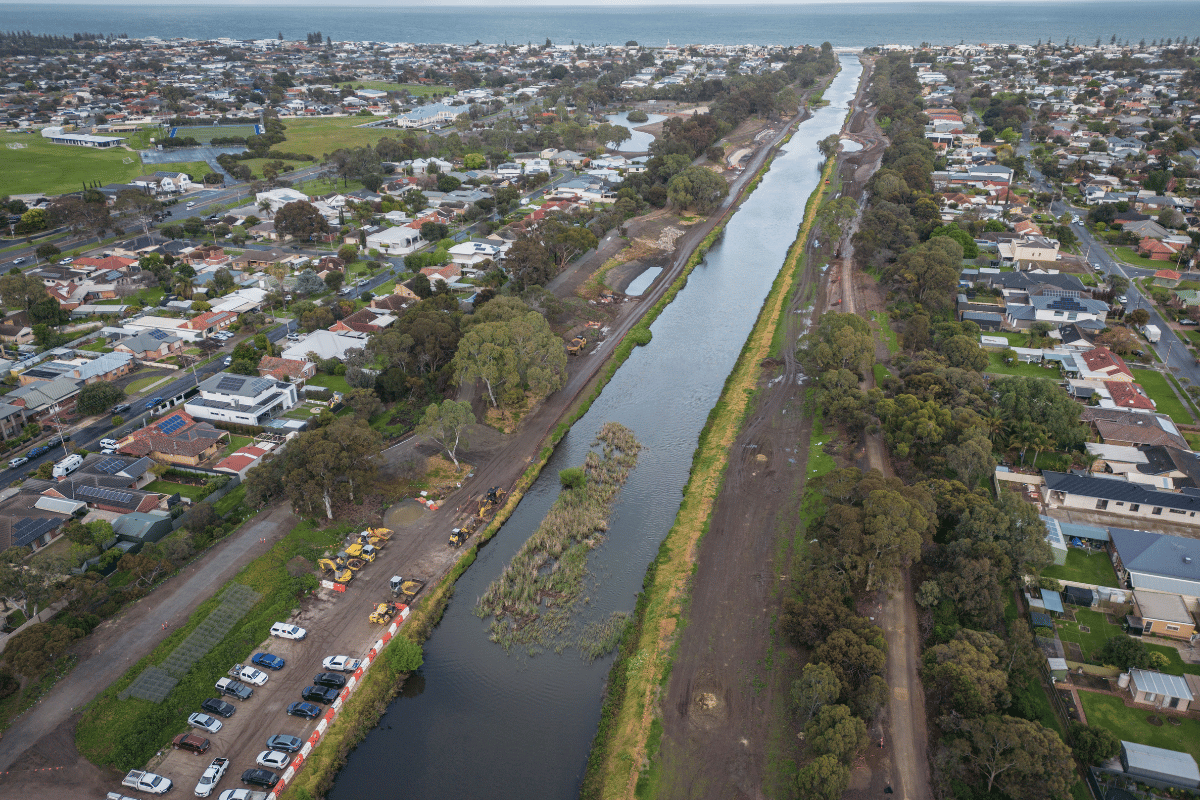 As part of the Breakout Creek Project Redevelopment Stage 3, our SA team was engaged by Bardavcol to transform the western end of the River Torrens (Karrawirra Pari).
The project involved revitalising 1.5km of river and banks from Tapleys Hill Road to the sea. This includes opening 15 hectares of currently fenced-off land for the community to enjoy.
The redevelopment aims to provide a new habitat for endangered and rare animals to live and reproduce while improving river water quality. To accomplish this, our team was tasked with removing weeds and planting 215,000 new native locally produced plants from our nursery.
Working with the Kaurna people, the traditional owners of the Adelaide plains, the project aims to establish new areas for people to learn about the Kaurna culture and history. The project includes maintaining a designated horse area along the river and constructing a new bridle path for the local horse riding club near Apex Park.
To improve the safety and amenity of the area, the project also includes strengthening existing walkways, increasing lighting, and improving access for pedestrians, cyclists and maintenance vehicles.
Breakout Creek Project Stage 3 final design
This project is a $14M partnership between Green Adelaide, City of Charles Sturt, City of West Torrens, the South Australian Department for Trade and Investment through the Planning and Development Fund, the Australian Government and SA Water. The project is committed to working with the Traditional Owners of the Adelaide plains, the Kaurna people.
Breakout Creek Completed July 2023
This urban waterway, a crucial drainage channel for most of the city, bore the brunt of last spring and summer's heavy rains.
However, this year marked a turning point as our dedicated team embarked on a mission to revitalise this vital watercourse.
Our efforts over the past 12 months have culminated in a successful project featuring a range of enhancements that include:
extensive plantings
resilient gabion walls
hydroseeding
meticulous garden bed preparation.
This holistic approach has beautified Breakout Creek and fortified it against future weather challenges.
This endeavour was a collaborative effort, with every team member, from the skilled nursery staff to the diligent on-ground crews, playing a vital role in its success.
As we transition into the maintenance phase, our commitment to Breakout Creek remains unwavering.
Over the next three years, we'll continue to nurture this urban waterway, ensuring it thrives and is ready for a seamless handover to the community.