Glenroy Train Station Level Crossing Removal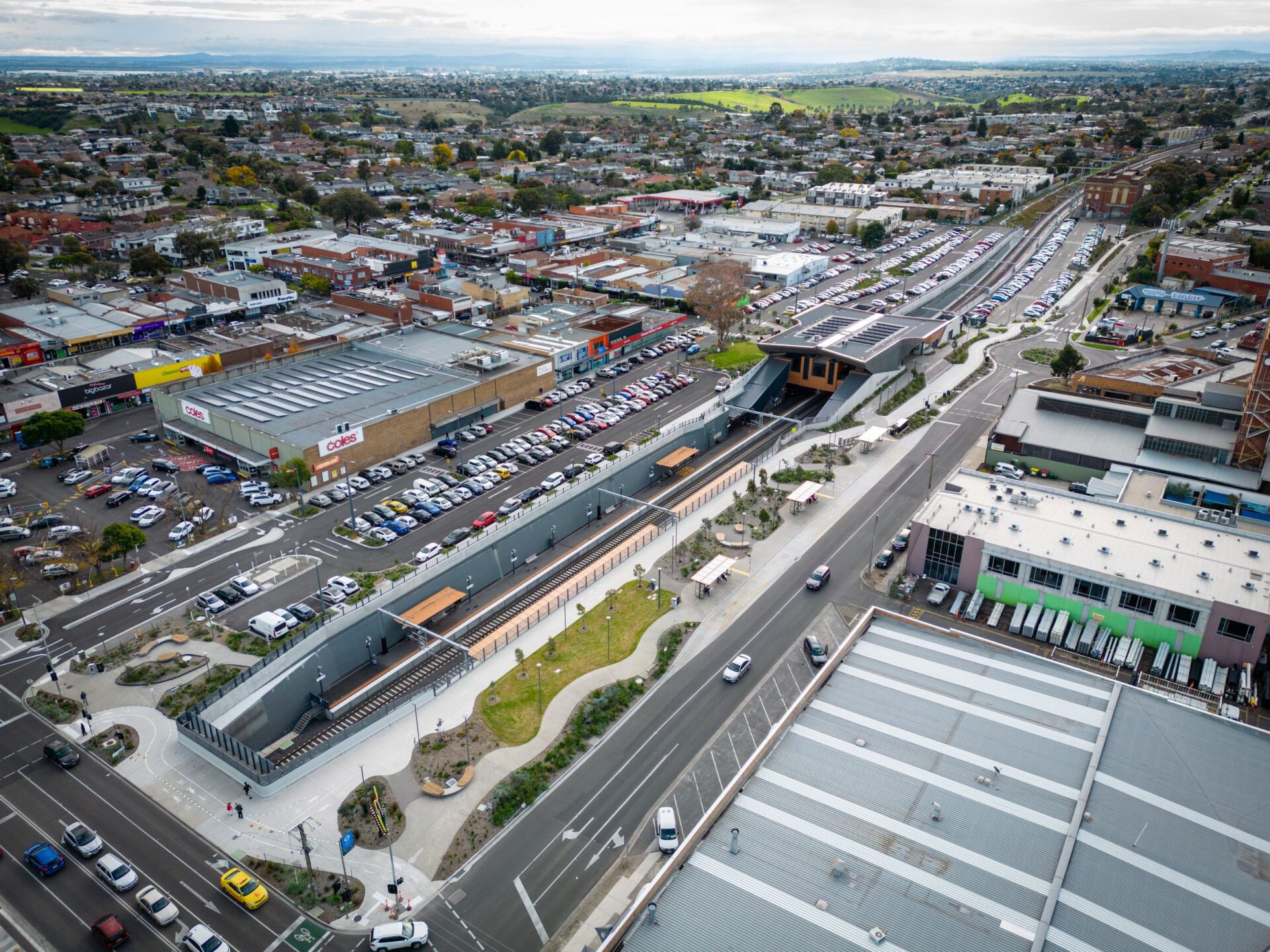 Our greening work on the Glenroy Crossing Removal Project
As part of the North West Program Alliance, our client John Holland needed a Glenroy Train Station landscape solution using low-maintenance plants that could endure drier microclimate challenges.
John Holland wanted to incorporate trees, vegetation and open green spaces into the station's landscape design which was valued by the local community.
In addition, John Holland planned to include plants in the parking lots and along walking and cycling paths with the purpose of creating a sustainable environment surrounding Glenroy Train Station to safeguard threatened species in the rail corridor and supply habitat planting that allowed growth and preservation of existing species.
How we helped green and improve Glenroy Train Station
Following an in-depth analysis of Glenroy Train Station Level Crossing Removal site, our landscaping team advised a planting and mulching program that would enhance strong plant development with the mulch act as a moisture barrier, removing the need for a watering maintenance program.
We used our blended Mossrock Recycled Mulch at Glenroy Train Station Level Crossing Removal because recycled timber would withstand wind and foot traffic over many years.
Landscaping works making a difference for local habitat at Glenroy Train Station precinct
Indigenous and *native species made up 80% of the 161 trees and 24,000 grasses and shrubs planted around the precinct (*sourced from the former Western Plains Grasslands where the Glenroy Road Train Crossing is located).
We incorporated indigenous and native plants to promote water conservation and offer natural habitats for local wildlife.
The University of Melbourne's Woody Meadows Project is incorporated into the landscaping precinct designs, with Woody Meadows forming the northern and southern project precincts and a ribbon of water-sensitive urban design passes through the Glenroy Train Station car parking lots.
In addition to providing local planting which enables the establishment and conservation of existing habitat, the sustainable landscape will aid in the protection of endangered species along the Craigieburn train line rail corridor.
View the Glenroy Landscaping Level Crossing Removal Factsheet
If you need advice on greening and preserving indigenous and native plants into your landscaping project, get in contact with our Landscaping team who operate in Victoria, South Australia and New South Wales.